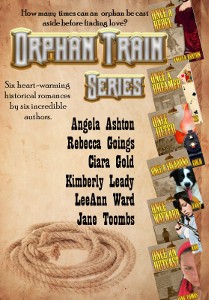 First, my publisher, Champagne Books, has bundled all of the Orphan Train Books for this month only. My
Once Jilted
is among the titles. This was a great series and so fun to write. Here's a short review of
Once Jilted
from
Katrina Maria:
"
Once Jilted
by Ciara Gold is a really special and heart-warming read. I first got this book on my kindle after reading a few of Ciara Gold's other books, and a few years later I got it in paperback because it became one of my favourite books to read...I found this novel emotional and inspiring, the way Shauna Joyce would do anything to give Sarabeth a life full of love and happiness. I would highly recommend this novel, it truly touched my heart with every page. I wasn't able to put it down for long."
Click here for a link to
KOBO
.
My next news is that
Eliza's Copper Penny
is now available in print. I got the proof back this week, and I'm really pleased with the result. Click here for a link to
Amazon
.
Third, and probably most exciting is that
The Rose Hunter
is on track for release on November 2. In fact, it's available for pre-order. In preparation for it's release, I have lots of things scheduled. I have guest blogs scheduled for
Romance Lives Forever
,
Susan Leigh Noble's Blog Into Another World
, and
Susan Horsnell's blog
.